Morning, all. Did anyone else have something all planned out to say earlier this weekend but just decided it wasn't important? Yep. Me too. Last night after getting home from a family Christmas party and some light shopping I came home and turned on the TV and got on facebook. That was a mistake. I turned both off, put on a movie (Julie and Julia) and addressed more Christmas cards. I just couldn't hear anymore. But before I went to sleep I thanked God for the people I love so much and for His protection over them. A few bloggers got together and organized a way to remember and help. Here's the link for more details if you'd like to participate.
Also, I'd like to point out that my babies are now famous. Please visit Catsparella to see their beautiful feline faces featured in this week's Caturday post.
And finally, on to Social Sunday. Hop over to Ashley or Neely's respective blogs to link up and play along!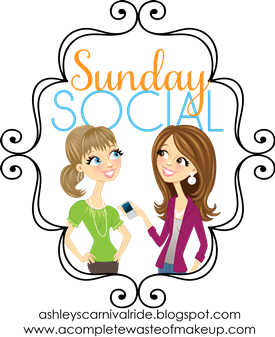 What is the wallpaper on your cell phone?
A picture from pumpkin carving LAST Halloween. Need to update that. It's just not easy on my dinosaur phone.
What do you keep beside your bed?
A lamp (duh), Maw's Disney World book, my bible, and a box of tissues. And there's always some random crap thrown on it.
What is your least favorite chore?
Dishes. I would rather do laundry all day long that do dishes once.
If you could eliminate one thing from your daily routine, what would it be?
Drying my hair. It looks better dry, but seems to take forever because it's so long. So if I could NOT dry it and it still look pretty, I'd go for that.
What do you do to vent anger?
Oh gosh. I'm a cryer. I cry...and might scream a little. I got out of the habit of throwing things when I threw a toothpaste bottle at a door and it exploded.
What is your favorite Holiday of the year and why?
Christmas by far. Always has been, always will be. It's a whole month of fun stuff to do. It's pretty to look at. It has its own movies and music. It celebrates one of the events that my entire faith is based on.
After all this sadness and death this week I couldn't help but remember a post I wrote a couple of years ago about living with passion because everyday could realistically be your last. Might be worth another read today and if it gives you a little bit of happiness, awesome.
Everyone hold tight to the people you love, count your blessings, have a wonderful week and remember to JUST BE.