Yesterday, December 1st, was my parent's 28th anniversary. I wanted to take a minute to thank them for being awesome:
Thank you for never beating us.
Thank you for never getting divorced, remarrying and making Kaylen and I deal with step-siblings. It would never have worked out.
Thank you for not being drinkers.
Thank you for teaching me how men are supposed to treat women.
Thank you for always working so hard to make sure we had not only everything we needed but mostly everything we could want too.
Thank you for taking me to church and teaching me about Jesus.
Thank you for not killing me during my teenage years.
Thank you for always being a support system through getting married young, two deployments, one far-away duty station and every other part of Corps life!
Thank you for raising me to have manners and be a decent almost-adult.
Thank you for your completely unconditional love and showing me what a marriage and parents are supposed to be.
Now onto my new thing, Sunday Social. I really enjoyed doing this and reading everyone else's answers last week! Link up with Neely and Ashley to play along each Sunday!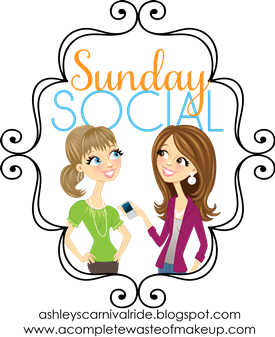 1. What is your favorite holiday season tradition?
Putting up the tree with my family, the Christmas parade in town, Christmas Eve with one whole side of my family, and the big day with my nearest and dearest.
2. Do you have a certain holiday movie you watch more than others? If so what is it?
As many as I can! My favorites are Home Alone, Santa Clause: The Movie, and The Grinch.
3. Show us your favorite decoration or pinterest decoration you wish you could have.
4. What is your favorite holiday song?
O Holy Night for sure. I definitely love the hymns. But other than that, it's The Carpenters' Merry Christmas Darling. It never fails to make me cry because it reminds me so much of when Chris was deployed twice for Christmas and it makes me so thankful to have him here!
5. What is your favorite holiday dessert?
Oreo balls, gingerbread men, and Christmas cookies! I don't discriminate when it comes to dessert.
6. What is on your wish list this year?
Some new flats, a Dunkin Donuts gift card, and flannel pajamas. I ALWAYS get pajamas!
23 Day til Christmas!