Today is a special day because my "baby" sister turns 19! So Happy Birthday to Kaylen! Yesterday afternoon Kaylen, Mom and I went and got our nails done together. I hadn't so much as been to a nail salon since I got married so I was kind of excited. I got the "spa manicure" and the little woman almost put me to sleep massaging me arms.
Last night after dinner with friends we stopped by Barnes and Nobles because on a whim I decided I needed a new journal to start writing in again. And Barnes and Nobles has such pretty ones!...and expensive ones. I was going to say "forget it, I can write in a steno pad" but Chris persuaded me to get a brown Italian leather notebook with a little leather rope to close it because he knew I liked it. So $35 later I have a new journal. My way of thinking is that if it's pretty it'll make me want to write in it more. At least that's what I'm telling myself to justify spending $35 on a glorified NOTEBOOK. Dang Italians and their pretty leather...
And now onto Sunday Social! This week is all about our individual blogs. An introduction of sorts. I'm really looking forward to reading everyone's answers to these! Link up with Ashley and Neely to play along!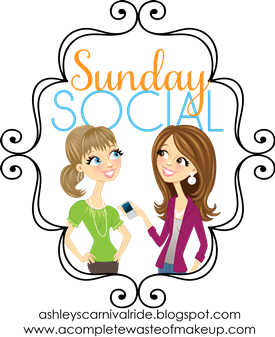 1. What is the name of your blog? How long have you been blogging?
Two-Thirds Scarlett (formerly Southern Charm) and I started this blog in 2009 but really kicked it into gear in 2010.
2. Why do you blog?
Just for fun. It's nice to have your own little space. And I really enjoying finding new blogs and "meeting" new people from different walks of life.
3. What is the first blog you ever followed?
Oh gosh. I don't exactly remember but I wouldn't be surprised if it was A Cup of Jo.
4. What is your favorite post you wrote in 2012?
One of them is this post that inspired the blog name change. The other is this one. It's not the happiest but it's the most heart felt and personal thing I think I've posted.

5. What are your blogging goals for 2013?
Comment more! I'm such a lurker.

6. Name your top 3 favorite blogs.
Right now it's Girl in Beta, Catsparella (a woman after my own heart) and Sometimes Sweet.
Tonight is dinner with the nearest and dearest in Tuscaloosa for Kaylen's birthday. I do believe she's going to like what we got her. And is it bad that I'm also looking forward to tonight know there's going to be cake? I didn't think so.
Have a wonderful last day of the week

end!