I'm starting to not hurt quite so bad after my spill Wednesday night! I'm almost at the point where I can bend over enough to touch the floor. Ha. That's awful.
Yesterday Chris and I moved the first load of boxes from our storage unit to the house! It's amazing the things you find or forgot you had when you haven't seen any of it in almost three years. For instance I had no idea we had a mini crystal chandelier! A wedding gift we couldn't use in our apartment no doubt. But lately I've been thinking about putting one in a spare bedroom. So thank you to whoever gave us the chandelier!
Today we're hopefully going to get a few more loads over. Maybe even some furniture! Who knows! We might just get crazy!
Hopefully after all that I'll have time tonight to hop over to Forever21. I've got a gift card that's burning a frickin' hole in my pocket.

And now Sunday Social!: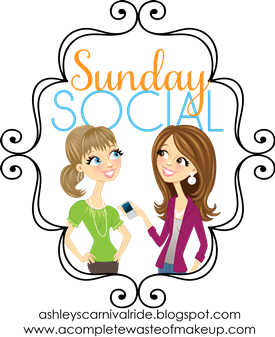 1. Top 3 favorite kinds of food:
Pizza Hut's stuffed crust pizza, supreme minus onions and mushrooms and add black olives. (It must be that specific for it to be a "favorite".) Then pasta (everything but regular old spaghetti) and shrimp.
2. First 3 things you do in the morning:
Hit the snooze once, grab my bath wrap and a pair of clean underwear, and hit the bathroom.
3. Last 3 things you do at night:
Lately it's been take my medicine, write in my journal then set my alarm for the next morning. [Side note - I'm really liking my new journal!]
4. 3 TV shows you NEVER miss:
When they're on, Sons of Anarchy, Modern Family, and DWTS.
5. 3 places you want to visit:
NYC, Paris, and Germany (I'd love to see all things historical here).
6. 3 people you can always count on:
Chris to love me, Daddy to give good advice, and Kaylen to cheer me up.