After my pity party funk I was in last week, I'm starting off the new week with the Sunday Social link up that I enjoy so much.
But first a couple of things...
-I'm loving everything about this Alabama Home Tee! It took living somewhere else for three years to realize how much I love the state I call "home". It's simple and perfect. The tees are completely American made and the website has an idiot proof size guide so you can't go wrong. Plus a portion of the profits go to Multiple Sclerosis research (something close to home).
-While walking through Belk today I half-jokingly asked Chris if I could buy a purse (he never tells me "no"). It just happened to be this super awesome, super pink, (super expensive) Kate Spade bag. He looked at the price tag and walked away. It would be so perfect for me! I would never ask for another purse ever again! Forget Coach. Forget Chanel. There is only Spade!
-Went to Best Buy and got Inglorius Basterds on DVD for 10 bucks. Score! Now to brush up on my German...
NOW onto Sunday Social. Link up with Neely and Ashley to play along!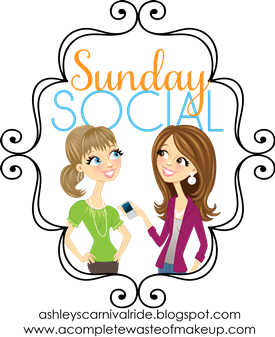 1. What was your first car?
2003 Mitsu Lancer. Loved it.
2. Who was your favorite childhood teacher?
Mrs. Thrasher. 2nd grade. One of the sweetest ladies on this earth. She sadly passed away on Christmas day two years after I was in her class.
3. Were you involved in any sports/extracurricular activities?
I did karate for a couple of years. I have a black belt. My whole body is basically a weapon.
In middle school choir was my thing. In high school I was I was in drama and on the yearbook staff.
4. What was your favorite birthday party?
Hm...my 4th was pretty cute. It was Dalmatian themed. Haha. I even had a specially made little white outfit with spots. I am a firefighter's kid afterall...
5. Who was your teen celebrity crush?
Lance Bass and Leonardo Dicaprio. It broke my heart when Lance came out of the closet and I realized I never really had a chance. But Leo still owns me...=)
6. What show/movie did your parents not allow you to watch?
Nothing really. They weren't very strict when it came to movies and TV.
Wait. I take that back. They quit letting my watch All That because they always had rappers perform at the end. Haha.
Here's to a good week!