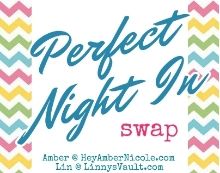 I cannot tell you how excited I was when I came home to find my first ever swap box! Linny and Amber (also the masterminds behind Ten on Tuesday) paired me up with Wendy from Our Happily Ever After. I had so much fun shopping for her items to make a perfect night in and she definitely did not disappoint!
Wendy was so detailed! The envelope was even sealed with a cupcake sticker.
I LOVED the chevron and anchor wrapping paper. It was so pretty I hated to open it...
...but not really. I tore into that! Great minds must think alike because we bought each other the same magazine. Ha.
I had in my box of goodies:
-A 3 DVD comedy set (hubs will love her forever)
-A bag of cheddar popcorn (already half eaten by the husband and I)
-And even two toys for the kids! One of which being catnip mice, their favorite.
Checking out their new toy.
Gus went completely Gollum over the catnip mouse. Clearly.
Thank you so much, Wendy, for making my first blog swap so awesome. The husband and kitties thank you too!
And thank you to Lin and Amber for putting it all together for all of us!