I don't know how the weather was yesterday elsewhere in the country but here in Alabama it was GORGEOUS. And warm. A hint of spring perhaps! I just wanted to be outside as long as possible.
We went to get our taxes done yesterday afternoon (first year since we've been married that we haven't owed, thank you, Lord!). I was afraid it would be a big, huge, long deal since 2012 was the year we bought the house. It wasn't! It was actually probably the quickest we've ever got them done before. After taxes I popped into Charming Charlie (just to look) while he was in GameStop. I walked out with hot pink hipster. Oh yes. I couldn't help myself. I was happy as a clown that I finally got a hot pink bag like I've been wanting!
Anyway, that was my Saturday.
Now for Sunday Social. Link up with Neely and Ashley to play along and "meet" some wonderful blog ladies.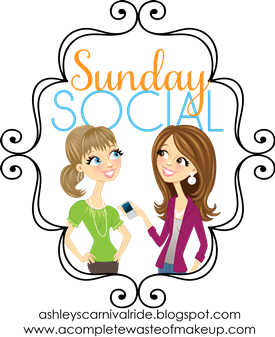 1. What is one movie you are terrified to watch?
Insidious. I watched it once through my fingers. Some of the images still scare me. Never again.
2. What is one TV show you have always wanted to get into but haven't yet?
The Walking Dead. Chris loves it. It looks really interesting! I just didn't care for it the first few episodes.
3. What is one daring activity on your bucket list?
Ha. Nothing. No adrenaline junkie here. Next question.
4. Would you ever travel alone?
Like take a whole trip by myself? Probably not. I'm a chicken. I'm pretty sure my face would end up on one of those shows about women who travel alone and are never seen again.
5. What activities do you like to do alone?
I usually don't mind being alone. But shopping is one thing that I just prefer to do solo.