I got to thinking, I haven't talked much about the happiest day of my life on this little blog. That's why I've decided to share with you my favorite pictures from our wedding day in three short parts.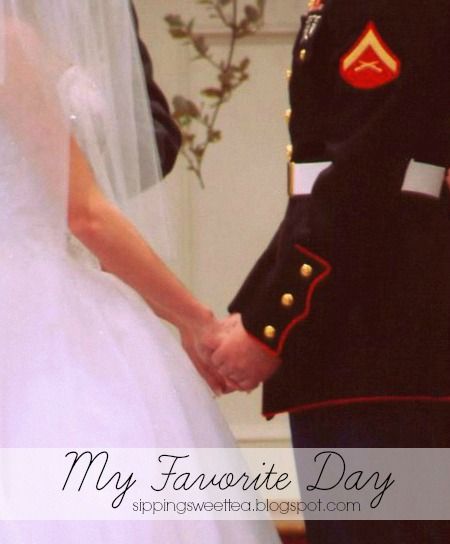 Chris and I were married when I was 19 and he was 20 in 2007 at the church where we met and were both baptised. My parents gave me the wedding I'd always dreamed about and I was over the moon to finally be married to him.
A few random tidbits:
-You'll notice there are no candles other than the unity candle in the church. That's because I told the florist specifically NO candles. I'm not a fan of open flames and would be terrified throughout the service that one would tip over, catch the church on fire, and ruin the day. Yeah. That's what I was thinking. I couldn't have been happier with the way the sanctuary looked. It was every bit as beautiful as I imagined it.
-In the 6th photo down I'm standing next to the stained glass window dedicated to my great-grandparents.
-I have talked in detail about my dress
here
.
-In the 5th photo from the bottom, that's my baby necklace hanging from my bouquet that my mother had added. I thought it was a sweet little (shiny) touch.
-The Marine Corps told Chris we had exactly TWO dates to choose from. The one we went with (April 28th) and Cinco de Mayo. Ha.
-From the day we solidified the date I started praying for good weather. In April in Alabama I was so scared we'd be dodging tornadoes. What we got was a perfectly beautiful sunny day!
I wish EVERY blog I follow would do a post(s) about their wedding! I love weddings and seeing how different people with different styles, personalities, and traditions do them.
Hope you'll tune in for Part 2 next week! (You know you want to.)