I haven't done a Sunday Social in a while and since I liked this week's theme I thought, why not?
So link up with Neely and Ashley and play along.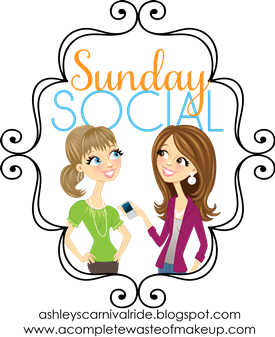 1. What is your all-time favorite song?
Iris by Goo Goo Dolls and Everlong by Foo Fighters are two of my all-time favorites. But right now I'm obsessed with Tusks by Fleetwood Mac, It's Time by Imagine Dragons and C'Mon C'Mon by Von Bondies. THAT song gets my HYPE.
2. Who is your favorite singer/band?
Right now Imagine Dragons and Mumford and Sons are way up my list. Smashing Pumpkins is another one. But Celine Dion will always be my top girl.
3. What song reminds you of your childhood?
Nsync's No Strings Attached CD. Haha.
4. What songs put you in a good mood?
I have a "happy music" list on my Spotify. On it is C'Mon C'Mon by Von Bondies, Dog Days Are Over by Florence + The Machine, King and Lionheart by Of Monsters and Men and That's What's Up by Edward Sharpe and the Magnetic Zeros. Just to name a few. Everything on that list makes me ridiculously happy.
Seriously. Listen to this and NOT bob your head.
5. What is your music to rock out to in your car?
I don't know about "rocking out" but I get real into Radioactive by, who else, Imagine Dragons. Other than that I have a worship CD from the church I attend that I just love. It put me in such a peaceful place.
6. What is the most embarrassing album or song you own?
Lou Bega's Mambo Number Five, anyone? Yea. I'm all over it.
This has been such an easy weekend. I didn't leave the house Saturday (well really I didn't leave my pajamas). I vacuumed some, did a little laundry and finished reading
Eclipse
....again. I know I know. The husband gave his thumbs a good workout with the Xbox. The cats, well, they slept all day. Nothing new there.
Having fun weekend plans are great but sometimes you just need a day to do absolutely nothing.
Have a great week, dears!