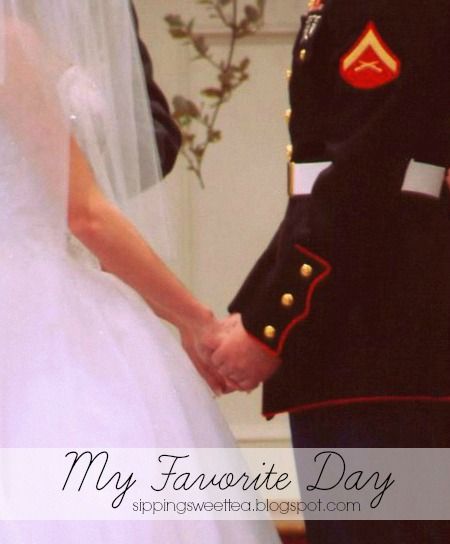 Like I said, our ceremony was very traditional and serious. I wanted the reception to be party! My whole family is southern baptist. And southern baptists Do. Not. Dance. So that ruled out having it at the church. It took place at a local community center. My parents and some awesome family friends transformed this boring building into the perfect, most romantic reception hall.
-Funniest moment was when the wedding cake got so warm in the window, the top two layers started sliding. The caterer (and our close family friend since before I was born, Aunt Sandra) ran to the cake as we got done cutting and screamed "Oh heavens to betsy this cake is SLIDING!". It's on the wedding video and I could hit rewind and watch it a hundred times and not stop laughing.
-We had out first dance to
Heaven
by Bryan Adams.
-Dad and I danced to Sweet Home Alabama and the guests joined in with the "Roll Tide Roll's. Both of us combined have four left feet and no rhythm so it was interesting. I knew I'd never make it through some sappy father/daughter song without losing it. It was one of my absolutely favorite moments.
-I love looking at the fifth photo. It looks like everyone was having fun! And there are
quite
a few southern baptists on that dance floor.
-The ONLY thing Chris and I ate was the piece of cake we fed each other.
-It's hard to see, but in front of the cake is a crystal cinderella coach. There were quite a few disney/fairytale references throughout the wedding.
-I'm so so SO glad we opted for flower petals for guests to throw. It made for some pretty pictures!
-The second to last photo breaks my heart. Kaylen is holding onto Mom and sobbing because after the honeymoon we weren't coming back home. We were headed to straight to Camp Lejeune.
[Photos except for 1st, 2nd, and 10th by James Roy (no longer in business)]
I hope you enjoyed this little glimpse into my favorite day! It's hard to believe it was over six years ago.
If any of you ladies have
your
big day recapped on your blog let me know! I'd love to see it!
Part
One
and
Two
.