Chris and I have had many a discussion over this subject because we think in certain aspects (one in particular) high school failed us. They can teach us the table of elements, who shot Franz Ferdinand (not the band), and the square root of pie until they're blue in the face. You know what? I haven't needed to know any of those things
once
since I got out of high school 7 years ago.
That's a scary thought.
There are a few things they skipped over that would definitely come in handy in the real world.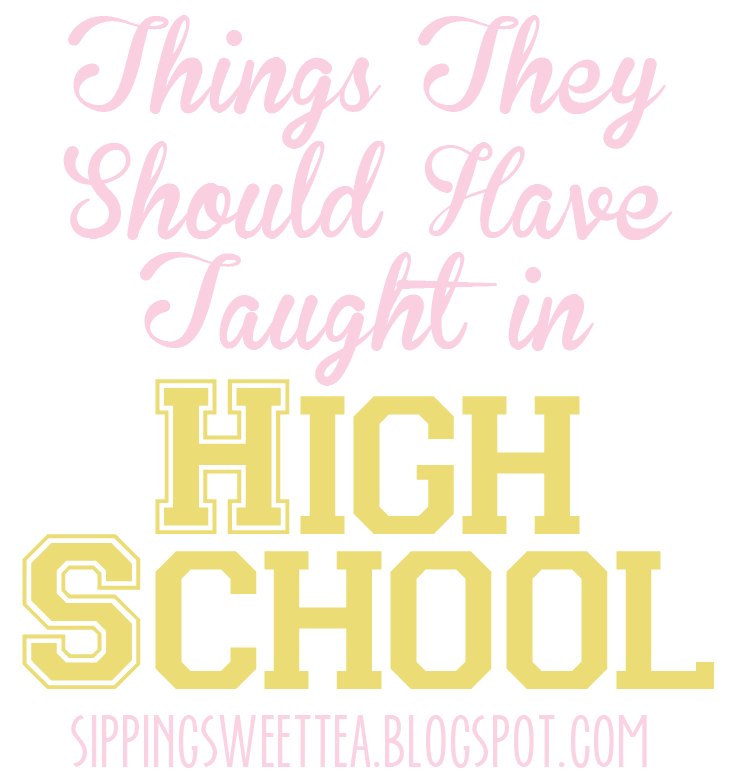 -How hard it is to fix bad credit.
Seriously.
This
is one thing we learned the hard way when we had to put off buying a house and lost out on the first one we fell in love with. When we started the house hunting process I had ZERO credit and Chris had terrible credit from bad decisions he made as an 18 year old PFC in the Marine Corps with money for the first time. It took months to get it up to something we could get a loan with. If I remember correctly in a business class I took as a freshman they just said "pay your bills and keep your credit up". How very helpful.
-NOT to refreeze thawed chicken.
I did this and almost cooked it, served it and subjected Chris and I to food poisoning and what would surely be a slow and painful death. I had food poisoning from some poorly cooked chicken at Chili's a couple of years ago and I will NOT let that happen again. I thought I was going to die in a fetal position in my bedroom floor. Teachers, warn your children about the dangers of poultry.
-How to dress for interviews.
Did you know that when going on a job interview in a professional office environment you're supposed to wear hose and kitten heels? Me neither.
-How NOT to get pregnant.
This doesn't apply to me but it's definitely something they skip in good ole' H-town. They're basically told just not to do it
because they'll get pregnant and die
. I'm very much against abstinence only "sex education". Be realistic. A lot of teenagers (not
all
but a lot) are going to have sex and saying "just don't" doesn't keep little girls from becoming mothers.
-Any of these words and they're meanings:
equity, budget, APR, deductible, interest, 401K, and escrow.
-Basic Self-Defense.
Why they don't require this as part of gym class is beyond me. Some people prefer to believe that we live in a world where teaching kids how to fight off would be attackers/kidnappers/rapists isn't necessary...but it is. If you're feeling vulnerable because you don't know how to throw down, just watch Miss Congeniality and always remember...to S.I.N.G.
Well? Am I missing anything? What are some things you with YOU had learned in high school?
Have a
great
weekend, yall.