So in case you haven't turned on a television, or read a headline, or been on twitter, or live under a rock, the Grammys were on Sunday night. Let me just go ahead and say, this is my least favorite award show. I'm a movie girl. It's where the A-listers are and it's where the amazing gowns are. Plus you don't have to sit through hours of (some questionable) performances.
Here's a quick rundown of my Grammy thoughts:
-Bey and J were hot.
-Hunter Hayes sounded terrible.
-Lorde is basically a vampire.
-Tswift is still annoying.
-Bow down to Pink.
-People will be worshipping Macklemore forever now.
On to the good stuff. The Good, The Bad, and The Ugly!
The Good: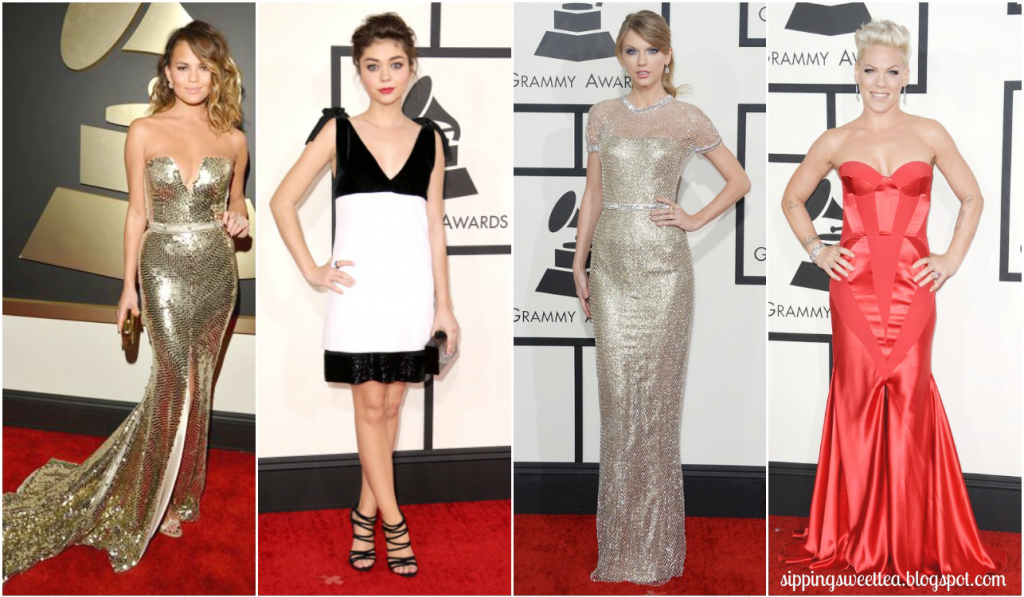 Chrissy Teigen - Good grief those curves. Like liquid gold. // Sarah Hyland - This might be my favorite thing she's ever worn. She look young and stylish. And her hair and makeup is FOR SURE the best I've ever seen. // Taylor Swift - I can give credit where credit is due. I've always loved gold and I was really digging the chain metal and cool neckline. And I'm glad she didn't do a predictable red lip again. // Pink - I've never seen her look better! Red is definitely her color and it fit her to perfection.
Honorable Mentions: Colbie Callait, Ciara, Gulianna Ranic, Katy Perry.
The Bad:
Kacey Musgraves - Girlfriend is gorgeous but this dress completely washed her out and looked a little too prom. // Natasha Beddingfield - Not feeling this at all. Plus she needs to hire a new hair stylist. // Rita Ora - The color reminds me of puke and it's really ill-fitting in the midsection. // Sarah Bareilles - Such a pretty girl and she did herself ZERO favors with this dress and that hair! I would have liked it better if the dress wasn't hi/low and she had done something more styled with her hair.
Dishonorable Mentions: Alicia Keys, Paris Hilton, Ariana Grande.
The Ugly: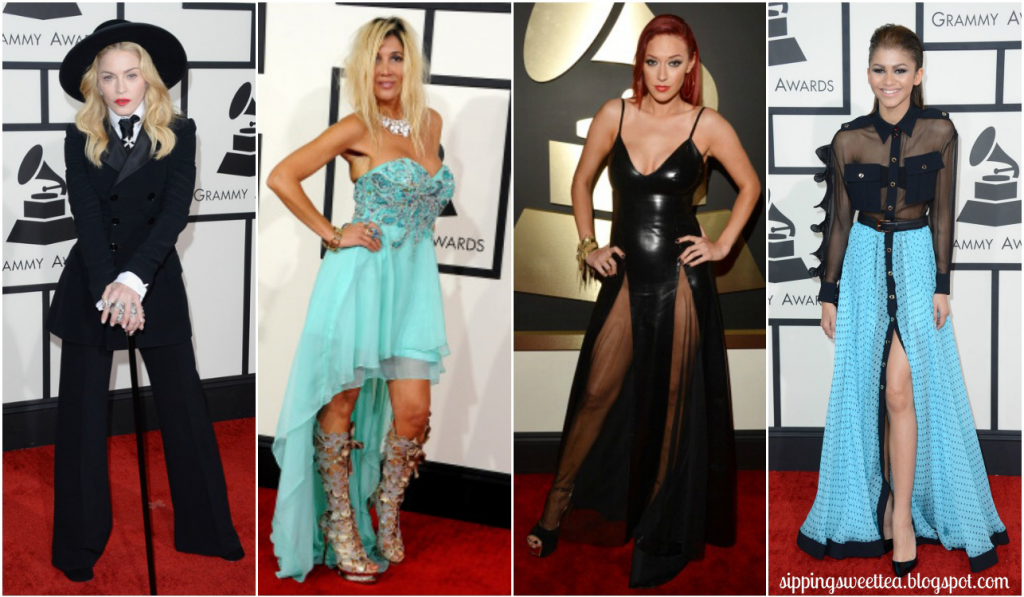 Madonna - leave it to Madonna to something over the top and ridiculous. The worst part is the grill you can't see. // Nadeea - WHAT IS THIS?! There are just....no. I can't even. // Kaya Jones - Slutty slutty slutty. But maybe that was the point? // Zendaya - Poor girl. So pretty and so modelesque and this is what she does. Looks like Project Runway gone awry.
Dishonorable Mentions: Fantasia Barrino, Skylar Grey.

Agree? Disagree?
I'm just ready for the Oscars. That's all I have to say about that.