Dear friends, I've decided to set a goal for myself.
But, Alyssa, shouldn't you have made this goal at the beginning of January?
No, because that would make it more like a resolution and
I don't make New Years resolutions
.
Moving on.
The fast ended last Sunday and I succeeded with flying colors (in my mind anyway). That night while I was home alone I thought I'd order myself a large stuffed crust pizza to celebrate. Supreme minus onions and mushroom add black olives. My favie.
…But I just couldn't bring myself to do it. And I'm not sure why. Maybe it's because after eating better than my norm for three weeks I realized how much junk I put into my body. Maybe it's because I watched Julie and Julia over the weekend. I suddenly have the desire to (attempt to) cook. Most of the time when I "cook" it's out of a box or bag.
So my goal is this: cook something new with actual, real ingredients once a week. That might not seem like anything to get excited over but for me it is.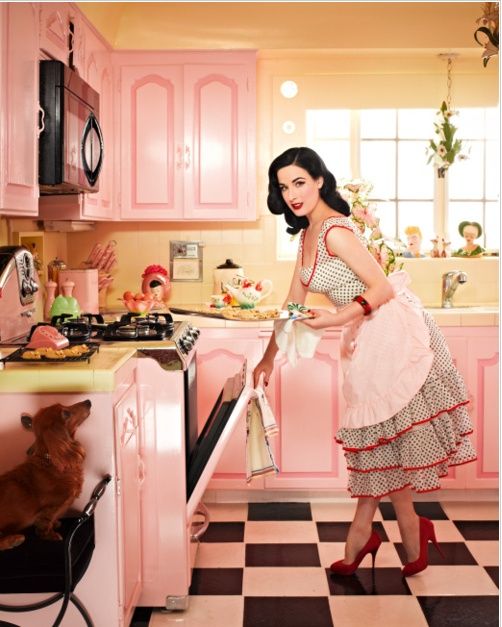 This isn't exactly what I look like in the kitchen. I wear flats, not heels.
Friday night I tried a recipe I found on pinterest (big fat duh) and let's just say it sucked majorly. I thought these
Cheesy Chicken Roll-Ups
would be simple and they pretty much were. I even got to butterfly and beat chicken with a mallet for the first time. (The mallet part was somewhat therapeutic.) I rolled the cheese mixture up with little difficulty and got the sauce poured over them and in the oven. An hour later when I pulled them out, the cheese had all but completely oozed out of the chicken and was floating in the sauce. We basically ate rolled up chicken with a little cheese.
THIS
Pinterest recipe I tried last night however was easier and more...what's the word....we actually wanted to eat it.
Even I couldn't screw that up.
On the new menu next week? Cheesy Chicken Chili. I don't know what it is with us and chicken and cheese. Oh wait, yes I do. Chicken is easy to cook and we just love cheese.
Wish me luck!