Happy Valentine's Day, all! I'm super excited for two reason:
1) Tonight is our annual Eat Like Rich People Valentine's Day dinner. We're foregoing gifts and getting all fussed up in my dress and his suit and going to splurge a little. I consider myself lucky to have a guy that actually likes Valentine's Day. =)
2) I get to link up with two of my favorites,
Sarah
and
Helene
, for their Valentine's Day link-up!
When Sarah and Helene announced the link-up I got to thinking about what I could post about. Valentine's Day traditions, what to wear on V-Day, sweet treats to make your significant other....nothing really came to me. Then I thought "I know! I'll make a list of some great romantic movies to watch for a date night in!". Except...I'm not a huge fan of romances or even romantic comedies. (I know, I make a bad girl.) So...I compromised and made you a list of some movies that I
do
enjoy....with a little love thrown in to make it appropriate for your romantic movie night in with your lova.
You're welcome.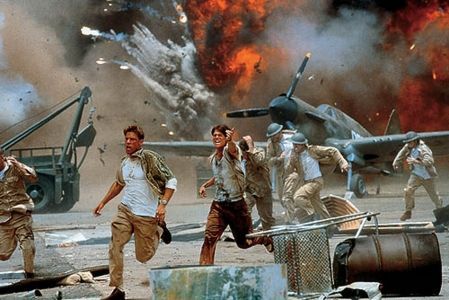 A World War ll era love triangle between a beautiful nurse and two flyboy best friends….
Or a moving war movie featuring some of the most wonderfully shot battle scenes in recent history. In my humble opinion, this movie would have benefited from a little more war and little
less
romance.

A story of a man and wife on the brink of divorce brought back together through dire circumstances…
Or the best action movie
ever
made featuring plenty of automatic weapons, explosions (see above gif), bodies being thrown out of windows and European terrorists. Plus a young, evil Alan Rickman. Yippee ki-yay!
A sweeping western romance about a notorious lawman choosing between the comfort of one woman and the adventure of another….
Or an epic shoot em up, kill em up, take no prisoners western surrounding the most famous shoot out of all time. Plus a wickedly funny (and cute) Val Kilmer.
The tragic story of love lost and a woman's affection for an unreachable man…
Or a dark opera about a razor wielding, homicidal maniac's quest for vengeance. Not short on bright red blood, gruesome death sequences and a body count as high as Johnny Depp's hairdo.
The complicated love triangle between a therapist, her patient and her police/mafia boyfriend…
Or a three hour long, uber violent, modern mob movie where everyone is two-timing everyone, the f-word is spoken about 3,274 times, and everyone unceremoniously gets shot in the head in the end. And Leo's in it. I mean, hello.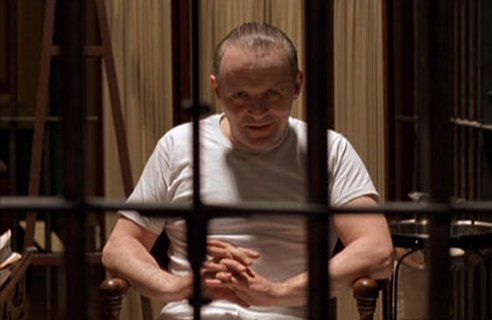 The touching story of an FBI trainee and the mysterious doctor trying to woo her....
Or the bloodcurdling story of said FBI trainee trying to solve the case of a woman-skinning serial killer with the help of a cannibalistic psychiatrist. One of the greatest and most disturbing movies you'll ever see. Fava beans, anyone?
So pick one of these classic romances, grab your favorite bottle of wine (a nice chianti perhaps?) and whether you're single or spoken for, have a GREAT Valentine's Day.