-Friday was (of course) Valentine's Day. I just love this day. The pink and red, all the hearts, the candy... After work Chris and I got all gussied up and went to our fancy shmancy, one time a year restaurant. I'll be dreaming about that steak for a week. We didn't do gifts buuut....I surprised him with a
Datevitation
coupon book I won from a giveaway. I'd been trying to win one for months and finally did just in time!
Daddy stopped by before we left to give me chocolates and a card that made me cry (his always do).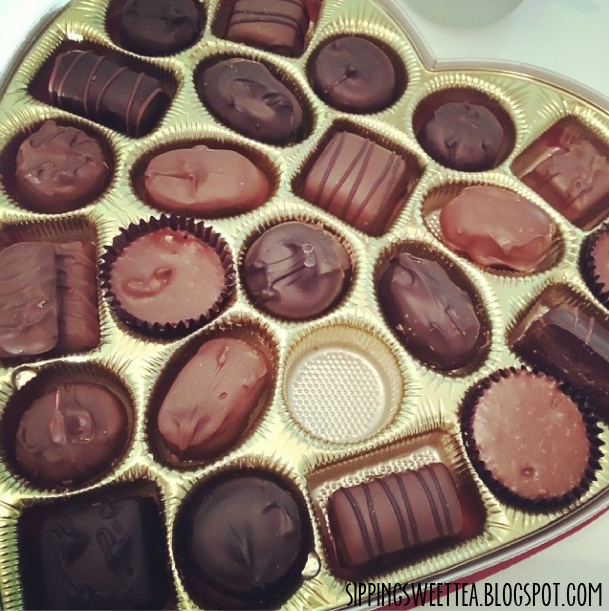 -Saturday Chris had his first practice for the little league season coming up and the kitties had a vet appointment. Their favorite. I can't take them by myself so Kaylen went with me. Her only stipulation was that she didn't want to have to carry Gus. Poor fat boy. It's always an event taking them to the vet. After we dropped them off we got breakfast at Ihop (our favorite) and piddled around for a little while. We drove to Daniel's house to pick him up and he asked Kaylen to move his 4-wheeler. (He can't drive it yet since his accident.) Kaylen told me to hop on and I rode my first 4-wheeler
ever
. This is how it went down:
Good times.
After that little adventure Chris and I went to pick the heathens up. They were being so hateful the vet actually asked us to come to the back and get them in their crates because they wouldn't let any of the techs touch them. That's a new low even for them. Like I said, always an event.
-Sunday was just a typical Sunday. My favorite day of the week. Church with Mom, Dad, and Kaylen then lunch and goofing off after. We ate at Dad's favorite place, ran a few errands, got some Dairy Queen, and listened to Disney music on the way home. It doesn't sound like much but it was perfect. Sundays usually are. It's days like that that remind me how blessed I am just to have the people in my life that I do. When I got home I had the house to myself (well, and the kitties) so I vacuumed, did some laundry and dishes and watched Tombstone. My
last post
made me want to watch it!
If you had an awesome weekend and blogged it, leave your link in the comments!
Have a great week!