Hello and Happy Wednesday! Today I'm linking up with the fabulous
Nicole
for this week's installment of Finish This. If you want to join in, grab the button and, you guessed, finish the sentences.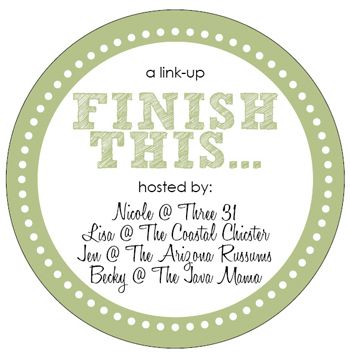 When I need help with life's mysteries, I turn to

Pam. At my last job we shared an office and she talked me off many a ledge and kept me calm. She's (a few years) older than me and can gives me good advice as a friend. It's nothing for me to text her and say "so this happened to me today…what do you make of that?".
My next challenge is figuring out

How to drop a few pounds while still eating whatever I want. This might be a tough one. In all seriousness, I'm trying. Nothing drastic. I'm doing the treadmill thing and keeping the junk food to a minimal. That's hard for me because I have SUCH a sweet tooth! But it's all about progress, right? Baby steps, people.
I shake things up

By spontaneously cutting my hair and coloring it pink apparently. Seriously. That's a big deal for me. Or by buying new things for the house. It's amazing what a new COORDINATING bedspread will do for you. I'm not much of a shaker.
High heels are
A pain in the padded butt. I used to wear heels all the time. In high school I would wear pumps and trod all over the (mostly outdoor) campus. Clearly I was more coordinated then because I can't do that now. When I wear heels now I look like a 10 year old with her first pair of kitten heels. Not cute. Not cute. Just give me my ballet flats.
PS. We finally watched Dancing with the Stars last night and I am SO rooting for Candace Cameron Bure! When I remembered she's devout christian I wondered how she would navigate the whole costume situation. She was covered and STILL looked amazing and her dance was my favorite of the night. I loved it. But I guess if I had a body like Peta, Karina or Emma I might walk around naked too...
And on that note, have a fantastic Wednesday!