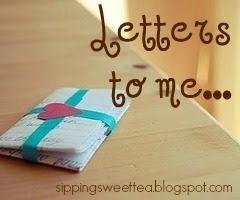 Alyssa,
Long friggin' time no see.
Jerk.
-Letters to Me
Dear Alyssa,
I think we make a good match! We're going to look super cute this summer at the pool. But can I make a request? Would you be a lamb and get a new beach towel? It's time to retire the Disney princess towel you've had since you were 16 and go with something a little more….stylish. Cinderella would be cramping my style. Much appreciated!
-Your New Swim Suit
Alyssa,
I have to say I'm hurt. I've been missing you since you broke your addiction. One, sometimes two little cups of coffee a day is just not enough. I thought our bond was stronger than that. Come back to me.
-Caffeine.
Alyssa,
If you don't clean me out soon I might reach maximum capacity and spontaneously EXPLODE while you're driving. You have at least one item from all major holidays in the past 5 months in here. A Christmas gift that never made it to it's intended, a desk decoration from Valentine's Day and….Easter eggs. Not to mention no less than FOUR jackets in the passenger seat. Who needs four jackets?? Get it together and take me through the wash while you're at it. Make this little cherry bomb sparkle again.
-Rosie (Your Much Neglected Car)
My Dearest Alyssa,
We'll be able to spend some quality time together in the morning. Looking forward to it. Have a great day!
Sincerely,
Your Bed
Have an
awesome
weekend.